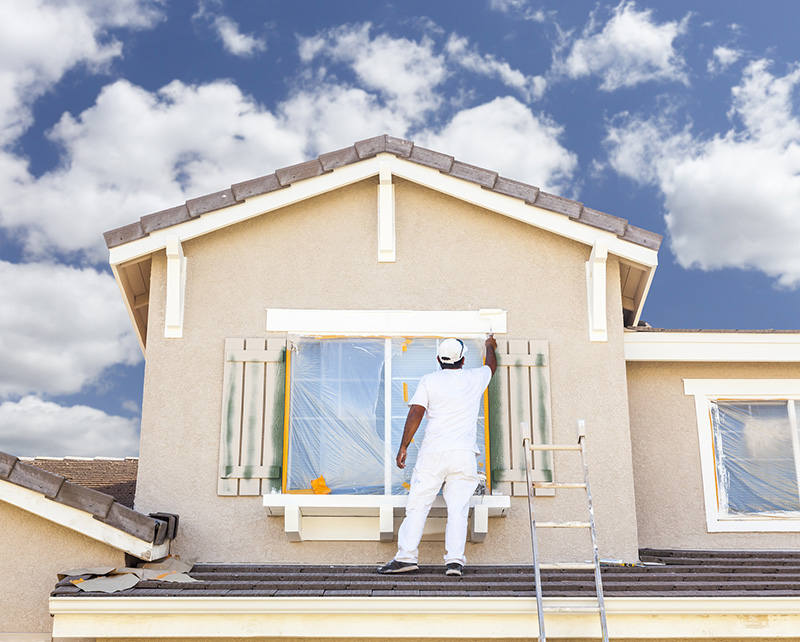 An exterior paint job for your home can have a huge affect on its visual appeal. Paint is an often-overlooked aspect of a home – and of all major renovations and improvements one could make, new paint often brings the largest return on investment.
A lot of homes in Temecula and Murrieta are under intense sunlight all day, and haven't been painted in a decade or more. New exterior paint can really bring an old sun-damaged and weathered home back to life!
Residential Painting Services (Interior & Exterior) in the Temecula & Murrieta Area
Here's one of our recent exterior house painting projects we completed in the Murrieta & Temecula area. We're in the process of revamping our website, and there will be many more examples of our exterior house painting projects to come.
Before the new paint, you can see the house looks worn and slightly bleached by the sun.
Before Exterior Paint
The new exterior house paint brings back a level of contrast that the house hasn't had in a while. The old sun-spotted paint is replaced by an even finished look. The garage door was darkened and matches the accented overhangs. Overall, the new exterior house paint gives this home a cleaner more contrasted and modern look.
After Exterior Paint
These are the types of things you can expect from your new exterior house paint. As you can see, the difference between new and old paint is remarkable.
The Value of Exterior House Painting
If you're trying to sell or rent a home, there's nothing like a fresh exterior paint job to make your home catch the eye of prospective buyers or renters. If you're just looking to generally improve your own home, new paint is a low cost improvement that can make your home look brand new.
Think about how important exterior painting of a home really is. The quality of a home's exterior paint is its "first impression." Exterior paint is almost solely responsible for the look of a home. If curb appeal is something you're home needs more of, an experienced exterior house painter can make it happen for you.
Wall Works is Temecula & Murrieta's Most Experienced Exterior Painter
Wall Works has been painting homes in the Temecula & Murrieta Valley for over twenty five years. Not only do we produce flawless paint jobs, we have decades of experience with all the aesthetic details of exterior house painting – the color schemes, how well certain colors last, and every other new paint consideration you could think of.
We provide a full line of services and can restore or repair just about any interior or exterior wall surface. We also offer drywall repair and interior painting in Temecula, and all over southern California.
Give us a call to discuss your needs at 951-234-7279.